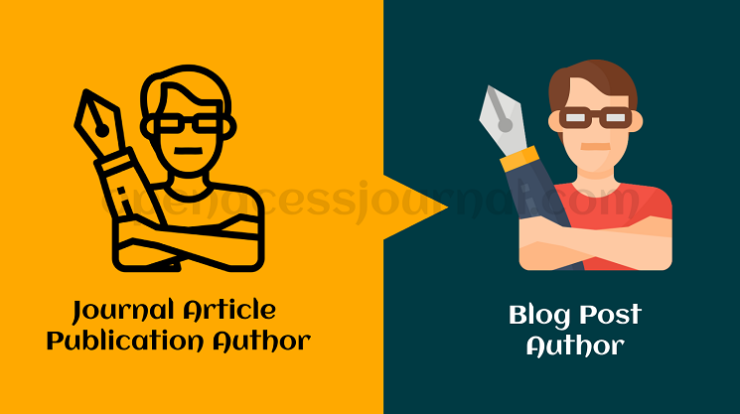 How a Journal Article Publication Author Can Write a Blog Post – When we surf the web, we see a lot of written content. We read a lot of stuff that helps us learn or entertains us. We hardly appreciate the authors behind it.
Similarly, when we look at research articles in journals we see a lot of work done by an academician or a researcher in collecting and analysing that data and transforming it into digestible information that would benefit the scientific community in a way, yet we hardly appreciate the effort.
Yes, there are a lot of negative aspects to the research articles like reading them is quite tough due to the superfluous technical jargon but it can be countered easily with writing short knowledgeable blog posts about the research in simple easy to understandable language so that the benefits of the scientific research can be reaped by many.
Achieving that is not as it seems though, because if you've researched and played with data for most of your career then communicating it in an easy-to-understand manner is quite tough. You need to practice it by writing blog posts about your research and putting it out there to collect feedback. Slowly but surely you'll become an accomplished author or you can hire one who can do the job for you.
Are you an accomplished author with published journal articles, but find yourself wondering how to transition your academic prowess into the world of blogging? Writing a blog post is a unique skill that combines your expertise with engaging and accessible communication. As you know it's a tough job, you'll require help if you decide to walk this path.
We can help you with it as we will show you the ropes of how to become a brilliant blog post author. This guide will walk you through the process of crafting a compelling blog post that resonates with both your academic peers and a broader online audience.
Introduction
Congratulations on your successful journal article publications! Now, let's explore how you can leverage your expertise to create impactful blog posts.
These blog posts will help you reach a wider audience. You have to allow yourself to let your research reach people who might otherwise not be familiar with scientific research and might not have a decent understanding of science.
They likely have a short attention span, which coupled with something they don't understand will result in even lower chances of them being willing to indulge in your research. What's the solution? Write a blog specifically designed in a way to reach where you intend it to reach. Blogging allows you to share your knowledge with a wider audience and foster meaningful discussions beyond academia and to the general populace.
Understanding Your Audience
As a researcher, before you come to some conclusions about your study don't you collect data? In the same manner, before writing your blogs, you must consider who your audience is. Who you're trying to reach and influence with your research? Does your research have real-life implications? Then you would want to reach as many eyeballs as possible.
Before you start writing, consider who you're trying to reach because it can affect what changes you need to make based on your understanding of your audience. Unlike journal articles that cater primarily to experts in your field, blog posts have a more diverse readership.
Think about how to communicate your insights to a broader range of individuals, including students, enthusiasts, and professionals from other disciplines.
Choosing a Relevant Topic
Before doing your research you observed and read a lot about all the old research done on similar topics. It is also known as a literature review.
You have to make sure that the topic you choose to write about is quite interesting. The interest levels for the topic that you choose must align between you and your audience. Selecting the right topic is crucial.
It should align with your expertise and current trends, ensuring that your blog post remains both insightful and timely. Consider addressing common questions, debunking myths, or offering fresh perspectives on existing research. Choice of topic is the most crucial step among all the steps we teach you.
Crafting a Captivating Title
Your title is the first impression readers get of your post. Make it concise, intriguing, and reflective of the content. A well-crafted title not only captures attention but also sets the tone for what readers can expect from your article.
An exciting title can create a decent amount of interest among the readers and can reduce the jitteriness of readers if any they have and you can reduce your bounce rate.
If your title includes a combination of words that doesn't confuse the audience but rather makes them curious then you've become successful. A Pro Tip is to ask questions in your title or draw attention towards something exciting.
Structuring Your Blog Post
Structuring your blog post effectively enhances readability. Structuring implies guiding your audience to the conclusion step by step.
Begin with an engaging introduction that hooks your readers. Break down complex concepts into digestible sections, and supplement your points with relevant visuals and examples to enhance understanding.
Start with the question that you will answer later and the audience has in mind. Then slowly break it down and explain each part and associated topics in a structured manner and ultimately reach the end where you conclude your topic and end it with a bamg.
The best example of this is this post that you're reading, Observe how this post is structured how every piece falls into place how it flows and how it will be concluded.
Creating an Engaging Introduction
Why is an introduction so important? Because it's the next thing that your audience will read after the title. It will set the tone of your blog, it'll give them a small idea about what to expect.
It will help the readers determine whether you'll be straight to the point or beat around the bush, whether you'll be blunt or try to invoke emotions.
The introduction will give you control over what you want your reader to expect from you and your research. It's more than just an abstract of your research, it's the part where you not only ask questions but draw in your audience to the 'why' of your blog post.
Start with a relatable anecdote, a surprising fact, or a thought-provoking question. Engage your readers from the outset, encouraging them to continue reading.
Breaking Down Complex Concepts
Use H2 subheadings to divide your content into manageable sections. This approach not only improves readability but also makes it easier for readers to grasp intricate concepts.
What's the most important job of a researcher? It is to answer the questions of the universe using science. In a blog post similarly, an author needs to step by step breakdown complex ideas into bite-sized manageable pieces of information.
Incorporating Visuals and Examples
Visual aids such as images, infographics, or diagrams can simplify complex ideas. Coupled with real-world examples, they enhance comprehension and make your post more engaging.
It's a cold hard fact that people have short attention spans nowadays so expecting your readers to stay and read the whole blog post will be very naive.
How do you overcome this? By using visuals that help convey your point easily and briefly and also keep the readers engaged enough for them to stay and scroll further.
Balancing Depth and Simplicity
We told you about how some people are not familiar with the science of it all and for them to reap the benefits of your research they require a more simpler language.
This does not mean that your blog should lose depth of content. In order to reach the widest audience you must find the perfect balance between depth and simplicity.
Maintaining a balance between depth and simplicity is key. Avoid overwhelming readers with excessive jargon or technical details. Instead, aim for an informative yet approachable tone.
Avoiding Jargon and Overcomplication
While your academic background is essential, excessive jargon can alienate non-expert readers. Define technical terms when necessary and favour clear explanations over convoluted language. Jargon can only be understood by a small percentage of people.
Are you really willing to alienate such a large percentage of readers who can't understand technical language? Are you willing to risk losing the interest of so many people? Are you willing to risk potential opportunities? Better yet use simple language to reach plenty of people.
Providing Actionable Insights
Offer practical takeaways that readers can apply in their lives. Whether it's advice, tips, or strategies, actionable insights add value and encourage reader engagement.
What's the point of conveying amazing information if you can't convey what one can do with your conclusions? Actionable info is always appreciated.
Maintaining a Conversational Tone
A conversational tone fosters a connection with your readers. Imagine you're discussing your topic with a friend, using personal pronouns and a friendly demeanour. The tone is very important to keep in mind. If you
Utilizing Personal Anecdotes
Weave in relevant personal anecdotes to humanize your writing. Sharing your experiences and challenges adds authenticity and makes your post relatable.
Personal anecdotes add a personal touch. Some people appreciate anecdotal evidence more than empirical evidence.
If you add how the research personally affected you then it's more likely to have more of an impact on the reader.
Adding Value Through References
Back up your points with references to credible sources. Linking to relevant studies, articles, or research papers enhances your post's credibility and encourages further exploration. It's quite similar to providing citations.
if you're quoting any study or any article you must link it so the readers can visit the source and draw their own conclusions if they wish to.
References give power to your blog post, the power of credibility, reliability and authenticity if the sources that you linked have a good reputation.
Transitioning Between Ideas Smoothly
Transitions ensure a seamless flow between ideas, preventing disjointed reading experiences. A smooth flow ensures that the reader stays with you and your reasoning and connects with you as you lead them to the next idea or complexity that you wish to draw attention to.
Using Subheadings for Flow
Subheadings guide readers through your content, signalling shifts from one point to the next. They provide a roadmap, helping readers navigate your article effortlessly and effectively without any hindrances
Employing Transitional Phrases
Words like "moreover," "however," and "meanwhile" create bridges between paragraphs.
These transitional phrases maintain coherence and aid in the logical progression of ideas.
A blog post that flows smoothly is akin to the path of a river that starts from the mountain and ends up meeting with the sea.
Engaging with Your Readers
Engagement is a two-way street. Pose rhetorical questions that prompt readers to reflect or share their opinions. Encourage comments and discussions to foster a sense of community.
You need to ensure that you build a community where everyone is welcome, irrespective of their level of expertise in the topics that you choose to write about. This community that you build will keep a steady stream of loyal readers who will give you constructive feedback.
Asking Thought-Provoking Questions
Challenge your readers' perspectives with thought-provoking questions. Encourage them to think beyond the immediate content and apply the concepts to their lives.
New ideas will only be discovered when curiosity will be encouraged. If your community is constantly asking questions and brainstorming then all will learn more and grow more together.
Encouraging Comments and Discussion
Conclude your post by inviting readers to share their thoughts, experiences, and questions in the comment section.
Respond to comments to keep the conversation going.
Comments lead to more comments which leads to more engagement as more and more people talk about your blog post which means it's shown to more people and they show it to more people which ultimately results in a lot of eyeballs on your post.
The Power of a Strong Conclusion
Summarize your key points and emphasize your main takeaways.
A strong conclusion leaves a lasting impression and reinforces the value readers have gained from your post. Conclusion is what the blog post is about, it's why the post was written in the first place.
The conclusion is the major motivation and the second most important part of the blog post that readers jump to after reading the title usually, so you should make sure that your conclusion reflects it.
The conclusion must be brief, to the point and telling of the importance of the study.
Optimizing for SEO
To reach a wider audience, optimize your blog post for search engines. Search engines can be your friend friend or foe depending on how well you've optimized your blog post for SEO.
SEO is very crucial if you wish to build an audience that will appreciate your work. To ensure that you incorporate SEO in your blog post you must follow the actionable insights mentioned below.
Incorporating Keywords Naturally
Identify relevant keywords related to your topic and incorporate them naturally throughout your post.
This improves the likelihood of your post appearing in search results. You need to make sure that it's a perfect marriage between the readability of the post as well as the technical aspects of SEO
Writing Meta Descriptions
Craft a concise and engaging meta description that provides a preview of your article. This description appears in search results and influences whether users click on your link.
Meta Descriptions are crucial for the search engine to describe what your content is about.
Promoting Your Blog Post
Don't forget to promote your blog post across social media platforms, academic networks, and relevant forums. Sharing your insights widens your reach and encourages meaningful discussions.
Promoting your blog post will help you reach a wider audience and through word of mouth you'll reach more and more people slowly your audience will start to grow and eventually you'll have a community behind you.
Conclusion
Congratulations, you've successfully learned how to bridge the gap between academic journal writing and engaging blog posts. By understanding your audience, selecting the right topic, and mastering the art of accessible communication, you can create valuable content that resonates with readers from various backgrounds.
If you follow all the above points and ideas with diligence you surely will start writing effective blog posts that'll reach your intended target audience and will surely be acknowledged by them.
You must give your best and follow as many ideas as you can for every blog post that you write in order to reap the best rewards you can while simultaneously also helping the readers who will benefit from the kind of knowledge that you have to share.
As Thoms Mann said 'A writer is someone for whom writing is more difficult than it is for other people.'. You must make sure that your effort as a writer bears fruit and you must strive to keep getting better at the craft every passing day as you have a duty to fulfil towards your audience
FAQs
Can I use images from my journal articles in my blog post?
Yes, incorporating visuals can enhance your blog post's readability and engagement.
How long should my blog post be?
Aim for a balance between comprehensive coverage and reader-friendly length. Around 1500-2000 word is a good guideline.
Should I respond to comments on your blog post?
Absolutely! Engaging with your readers by responding to their comments shows that you value their input and encourages further interaction.
Is it necessary to have a personal blog to write posts?
While having a personal blog provides a dedicated platform, you can also contribute guest posts to established blogs in your field. This helps you tap into existing audiences.
Can I share unpublished research in my blog post?
While sharing insights is great, be cautious about revealing unpublished research. Consult with your peers or mentors before disclosing sensitive information.
Related Post
Open Access Journals has been found with a genuine mission of giving free access to quality scholarly research journals and dissertations to everyone in need and impacting countless people in the process. We know it's tough to get hands-on educational journals that pack a punch. We give you the tools so that you can have the advantage and be smarter by learning a bit more.