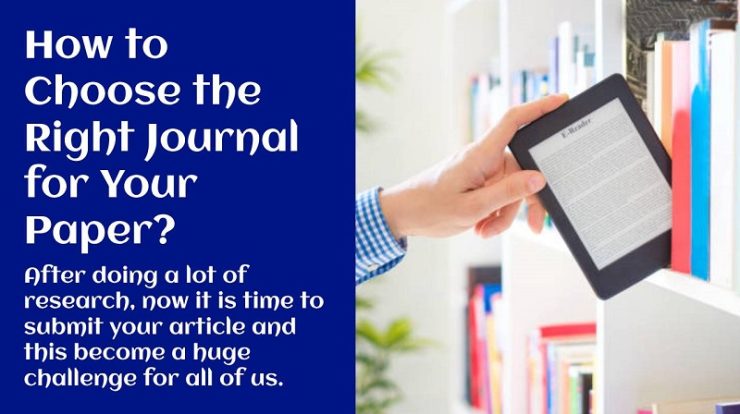 How to choose the right journal – After doing a lot of research, now it is time to submit your article and this become a huge challenge for all of us.
As there are a lot of things to check whether a particular journal is having awareness related to your research? There are a lot of challenges which are faced by researchers.
You need to choose journals, which will help you in making your paper more informative and let you ease in expressing your thoughts.
But the thing is how to choose the right one. So, if you are facing the same issue, the above post is made for you as here we will help you in to choose the right journal for your paper. Let's check out the information below.
What is a Journal?
Before moving to the actual topic, you should understand what a is journal. A journal is a full-fledged research about a particular topic.
A journal consists of articles that are written or published by experts, or professors. A journal is published regularly which can be daily, weekly, or every month. Every journal has its audience, scope, and range.
For example, when you are choosing a journal for your paper, then it will consist of discussions, presentations, and reviews.
A right journal must be transparent. A journal for a paper is made up with knowledge and contributions, that improve the knowledge of the readers.
Why does choosing the right Journal matter?
If you have already worked on a journal, then you must choose the right journal that will publish it. If you want your journal to reach the right audience, then it matters a lot. Moreover, if you choose a journal after research, then there will be more chances of getting your journal approved. Besides, this after doing research you can also reduce the chances of getting rejected. It will help you in saving your time and reduce the number of submissions you do.
Benefits of choosing a Journal for a paper
While talking about the benefits of choosing a journal for a paper, it is the only option that can make your paper more informative and unique. Behind this, there are many advantages to choosing it. Check out all those and choose it to make your paper well-researched.
How to choose the right journal for your paper?
We know how much it is to choose the right journal as the overall quality of the paper depends upon it. Here we have some of the steps that can help you out:
Here are the steps, that will help you in choosing the right journal for your paper
The first step is that you have to make a list of all the journals that suit your research field. It will help you learn more details, scope, and understand all the exceptions of your journals.
if you are looking for right journal for your resrarch papaer you can use Journal Suggester by Journals Insights
Understand your motive behind the Journal
When you are working on a journal, then you must have some motive behind it. Here are some of the major things that you should understand when you are publishing a journal
What will be your topic?
How you will study or research for your journal? To make maximum out of your study you can post a preprint.
Whether you are meeting all the requirements related to the licensing and ethical disclosure?
How you will find readers, who can study your journals?
Perform research on the potential journals
If you are going to publish, any journal then you may have also published some of the journals before. You can perform research on those journals and check out what's new in those journals. Perform online research about the journals published in the same niche.
Focus on audience
When you are going to publish a journal, then you should focus on your audience. For instance, if you want to reach out to the scientists, then choose their related areas. Here we have some of the important points that you must focus, on when you can go to publish a journal.
What will be your topic?
Whether your journal specialized?
For what type of audience you are going to write a journal? How you will reach your audience?
Do you fulfill all the requirements to publish a journal?
How much budget do you have for publishing a journal?
Understand previous articles published by journals
If you have chosen any journal website, then learn whether the website is accepting the type of journal that you are writing. Check out whether that journal is according to your audience, and check for the funding requirements. Here are some of the points that you should notice in this
Whether their published journals are indexed or not?
Who is handling all the tasks related to the editing?
What are the different topics available within a journal?
Whether the journal is taking payments for APC? If yes, then how much they are charging
Learn about how much additional fees they are charging?
Check out different Metrics that will help you in choosing a journal
H-index
It is also known as an author-level metric. It is made for higher-level aggregations as well as journals.
JIF
JIF is also abbreviated as the Journal impact factor, it is calculated as how many citations a particular journal receives in a year, which is then divided by the number of citations published in the last year.
CiteScore Metrics
It is very much beneficial in understanding the impact of the journal. It is one of the transparent, and comprehensive methods to find out a journal's impact.
Besides this, you should check for the journal insights before choosing it. Here we have some of the factors that can help you out in checking for insights.
It involves the number of times, a particular journal is cited
Reach
It includes how many downloads that a particular journal got in the last five years. It also involves checking for downloads from a particular country or region.
Speed
The speed checks for how many times an article is reviewed.If you feel that a particular journal does not match your manuscript, then you should ignore it and try to ignore it from your list. If you want to publish your journal earlier then you can choose such websites that publish journals earlier. If you want more and more people or audiences can reach to your paper, then choosing a journal that deals with the open-access option is beneficial. With the help of open access, everyone can read your journal.
Make sure that you choose multiple journals for your paper. So, if any of the journals has rejected your journal then you can publish on the other one.
Learn about the peer-review process
The main motive of the peer-review process is to investigate all the things, which are written within a journal. It is all handled by a group of investigators, who have relevant experience in their field. If they find anything which can be misleading to the audience, then they reject the journal. With the help of the peer review process, you can make your journal well-explained and you can easily find gaps within your journal.
The main motive behind the peer-review process is to check whether the manuscript is worth publishing. When you get rejected within this process, then you will also get feedback for it. So, it is the major step that you should focus on when choosing a journal for publishing your paper.
Points to remember to publish your paper
Never choose a highly selective journal for your paper, because a highly selective journal has very less chances of accepting your journal. However, many highly selective journals will pass your journal to the researchers who will match your study.
Never submit one journal to multiple websites
You should not submit your paper to a journal that does not deal with your study
You can consult with the other authors related to the needs or priorities
Learn about the online presence of the journal. Here in this go through all the articles and find out whether the journals published do not have any grammatical mistake and assure that there must not be any unlicensed image present within it.
An authorized journal website always has their entire journal indexed on search engines. Most of their journals are available on Google Scholar and other websites. So, check whether they have such journals or not.
We hope that you have found a right journal for your paper
Though, it is very much time-consuming, but we believe that after working on the above steps you have found a right journal for you paper. So, at last you should never miss adding a cover letter along with the manuscript before publishing your journal.
Open Access Journals has been found with a genuine mission of giving free access to quality scholarly research journals and dissertations to everyone in need and impacting countless people in the process. We know it's tough to get hands-on educational journals that pack a punch. We give you the tools so that you can have the advantage and be smarter by learning a bit more.