Caution: Avoid Publishing Your Paper in Discontinued Scopus Titles: 2022-23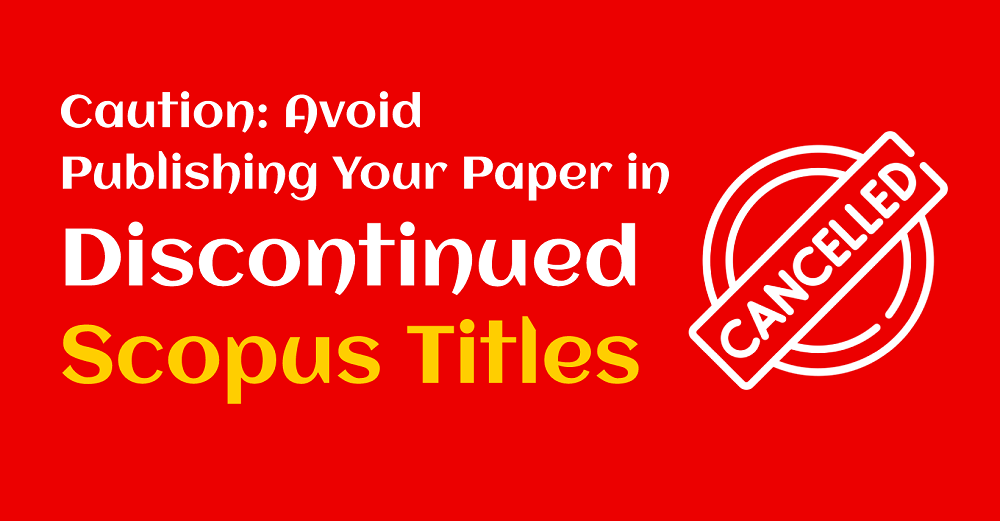 Discontinued Scopus Titles – Scopus is a large abstract and citation database that covers a wide range of disciplines, including science, technology, medicine, social sciences, and more. It is maintained by Elsevier, a leading publisher of scientific, technical, and medical content.
Scopus may discontinue titles from its database for various reasons, such as when a journal is no longer being published when a title does not meet Scopus' inclusion criteria, or due to changes in the editorial policies of a journal. When a title is discontinued, it means that it will no longer be indexed or included in Scopus' database.
Discontinued Scopus Titles
Acta Medica Mediterranea
Archivos Venezolanos de Farmacología y Terapeutica
Astra Salvensis
BiLD Law Journal
Bulletin Minerologie Petrologie
Campus Virtuales
Computational Intelligence and Neuroscience
Cypriot Journal of Educational Sciences
Education in the Knowledge Society
Education Sciences: Theory and Practice
Egyptian Journal of Hospital Medicine
Incas Bulletin
Indian Journal of Pharmaceutical Sciences
International Journal of Agricultural Extension
International Journal of Biology and Biomedical Engineering
International Journal of Circuits Systems and Signal Processing
International Journal of Mechanical Engineering
International Journal of Nonlinear Analysis and Applications
International Medical Journal
Journal of Agriculture and Crops
Journal of Pharmaceutical Negative Results
NeuroQuantology
Open Access Macedonian Journal of Medical Sciences
Res Militaris
Revista de Filosofia (Venezuela)
Universal Journal of Accounting and Finance
Voprosy Istorii
Wisdom
World Journal of Clinical Cases
World Journal on Educational Technology
Discontinued Scopus Titles
If you like this post "Discontinued Scopus Titles" please share this post with your friends.